What do you prefer: hiking, cycling, kayaking or sailing?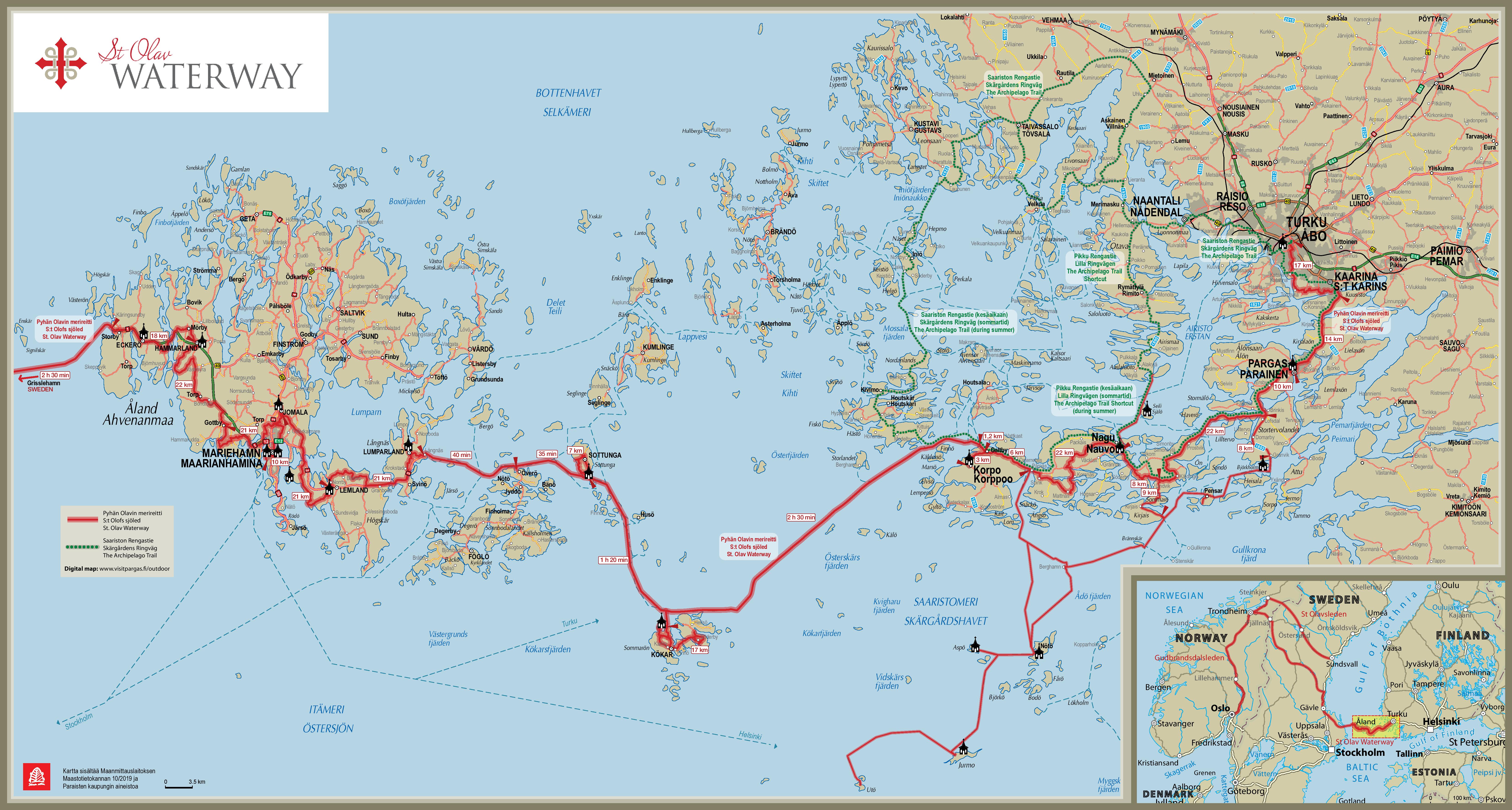 Finland
Turku-Korpo: Five stage descriptions, services and maps in details
Route descriptions, ferry timetables and places to stay are linked from the individual stages.

The maps are downloadable and printable.

A GPX or KML track for navigation can be downloaded to your phone, GPS, smartwatch or sports-tracker.

For mobile navigation and planning on your phone, we recommend the free Outdoor Active app. 
You will find updated information on our Facebook page @olavinreitti.
In our Facebook group you can share your photos and trail tales, get help and answer to your questions from other pilgrims and locals along the path.
Cyclists have a dedicated map and GPX track of the route. The ferry to Åland has a small charge for bikes, other public ferries are free.
Ferries are free for foot passengers and have multiple departures per hour along the main route, there is no need to book.

The ferry to Åland between Galtby in Korpo and Kökar has daily and sometimes twice daily departures during the summer but less during spring and autumn, please check the timetables and plan accordingly.
There are tourist boats that can take you to more remote islands for a fare, some are also available for private hire.
The ferries on the optional outer-archipalago routes travel more seldom, ask the accomodation provider to help with the timetables or stop request ferries. 
Ferry timetables are found on the digital maps.

In order to prepare for your trip, why not explore the trail and landscapes on Google "hike view"  with 360 degree pictures, the trail is also available on google maps as streetview. 
Åland islands
Kökar-Eckerö: Six stages
Map of the route on the Åland islands
Visit Åland – hiking
Stage maps Turku- Eckerö below or on our outdoor portal