WALKING APP INSTRUCTIONS IN ENGLISH – Have you ever thought that you could walk 1200 km?
Want to challenge yourself and others? Improve your health and learn more about your surroundings?
Walk 1200 km in your hoods during the winter with our free app whilst you explore the longest pilgrims' trail in the Nordics. St. Olav Waterway travels through three countries from Turku to Nidaros Cathedral, Trondheim, St. Olav's resting place.
You can participate yourself or as a group of up to five people and collect steps and kilometers together, for example, during evening walks, or why not have a goal of visiting and discovering new nature paths and cultural attractions in the Turku area and archipelago. On average you will need to walk 10km per week each if you are a group of five.
We will reward all who reach Trondheim with an official badge. Exchange your diploma of completion from the app for cloth badges in Pargas information points in Pargas or Nagu or in Turku at the pilgrimage center in Turku Cathedral on Wednesdays between 1.3 – 1.6.2022. If you live further afield, send your diploma of completion and address by email to olavinreitti@gmail.com, we will send a number of bages out in return.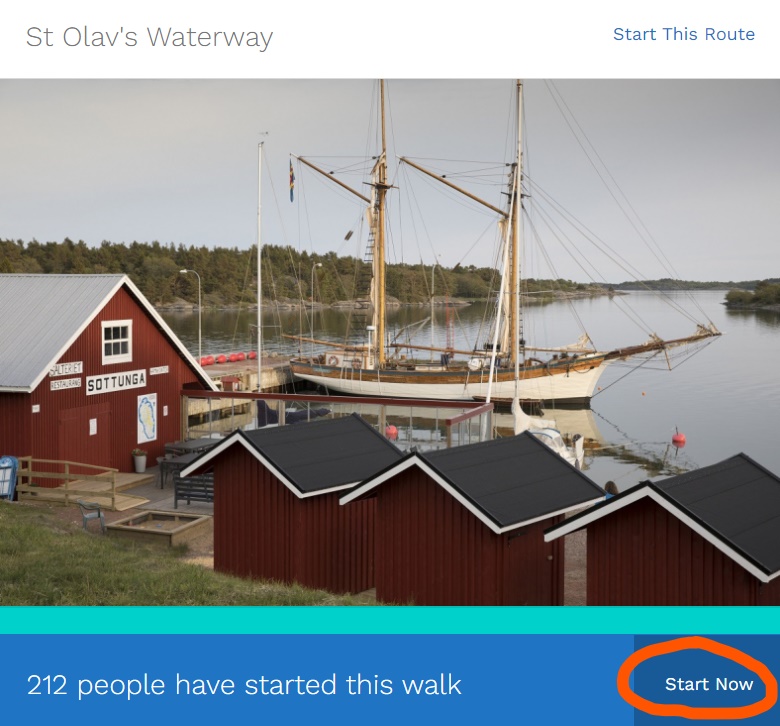 How to use World Walking:
Install the free World Walking-app from your telephone's app store; AppStore, GooglePlay. The app is available in English.
Create an account or log in.
Search among the Walks for St Olav's Waterway. Or, you can type "Waterway" in the search box.
Open the route and begin to walk (Start This Route or Start Now).
You can collect steps and kilometers in the app with help of your telephone's GPS while you walk, or alternatively manually save your kilometers in the app after you have walked a certain distance.
Through the app you can explore the St. Olav Ways routes and save your progress on the map. The 12 milestones tell you more about the route and sites you are passing. Admire the landscape with the help of google streetview in the app.
God tur! See you in Trondheim.