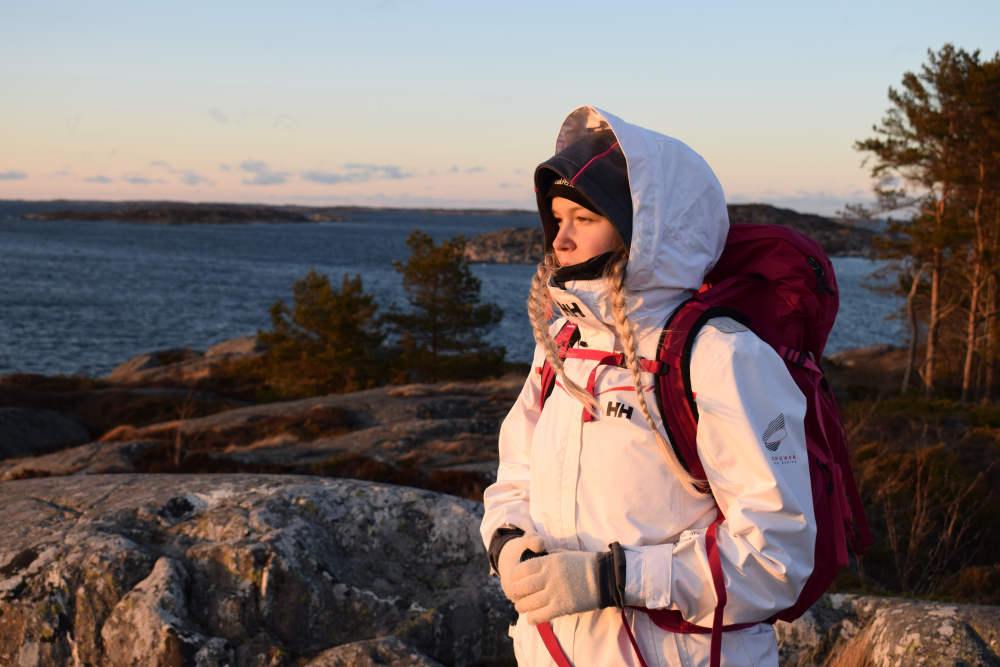 Hello!
We are three girls, Clara, Daniela and Annika, who walked the St Olav Waterway route from Galtby, via Kökar and Långnäs to Mariehamn 7-9.4.2017.
Early on Friday morning we started with bus from Turku to Galtby, from where we took the ferry to Kökar. When we arrived, we walked to the store to buy some ingredients for dinner and breakfast, since no restaurants on Kökar are open this time of the year. Our first impression of Kökar is that the locals are very friendly. Almost everyone we met waved at us and the lady in the store was so nice (and patient, since we in the last minute before paying decided we also wanted ice cream).
After fitting all the food in our backpacks, we started walking towards Antons Gästhem, our accommodation. It had a fully equipped kitchen, dining room, fireplace and even a sauna, so we were very satisfied with our choice of accommodation. At Antons Gästhem we met up with our guide Joel who took us on a boat trip. Our guide told us about Kökar, the people who lives there, the nature and about the animals you can spot while cruising on the waters of Kökar (deer, swans, eagles and, if you're lucky, seals!). Our guide showed us the actual starting point of the trail, on the east side of Kökar, but we decided to start from the middle of the island, where he dropped us of.
We started walking east at first, since we wanted to check out a small hill from where you could get a nice view. (It is marked with a sign that says "UTKIK", so it is easy to find!). After that we continued walking west. The terrain was nice to walk on. It is mainly sand roads with little to no traffic. After a while the terrain gets more difficult, and you have to walk on small cliffs and forest terrain, but at that time we were already lost. So, our number one tip is to not follow the clear path/dirt road as we did, but to carefully look for the signs for the right trail! When we found our way back with a little help from Joel (our guide), we walked past a place where we could see traces from the Bronze Age.
Eventually we got to our goal for the day, the church on Kökar's north west side. We saw the church by the sea in the sunset and it was beautiful. Joel then offered us a ride back to Antons Gästhem on his four-wheeler. Too kind!
Our top 3 reasons why we recommend walking on Kökar:
The nature. Whichever direction you look you will be amazed by how beautiful it is.
It is peaceful. There is almost no traffic, you can spot a lot of animals, and the view over the sea is stunning.
The people. The locals are very friendly and know a lot about the island, and they will gladly help with anything. They are almost too kind.
Some tips from us to you:
It is good to have clothes in layers, since it is easy to take of a layer when it gets hot in the sun, or put on a layer for windy boat trips.
Make sure you get to the store in time before it closes, and look up the opening hours! Kökar is a small place, so the store isn't open every day. (But it has everything you need, so don't worry about that)
If you have access to a boat and you have the whole day to walk, start on the east side and walk west towards the church. If you only have half a day, start in the middle and walk west.
You don't have to be very fit to walk the trail, but we wouldn't recommend it for elderly or small children because of the terrain. (You can walk on the main road as well, which is easier, but it is not the same.
Clara, Daniela and Annika